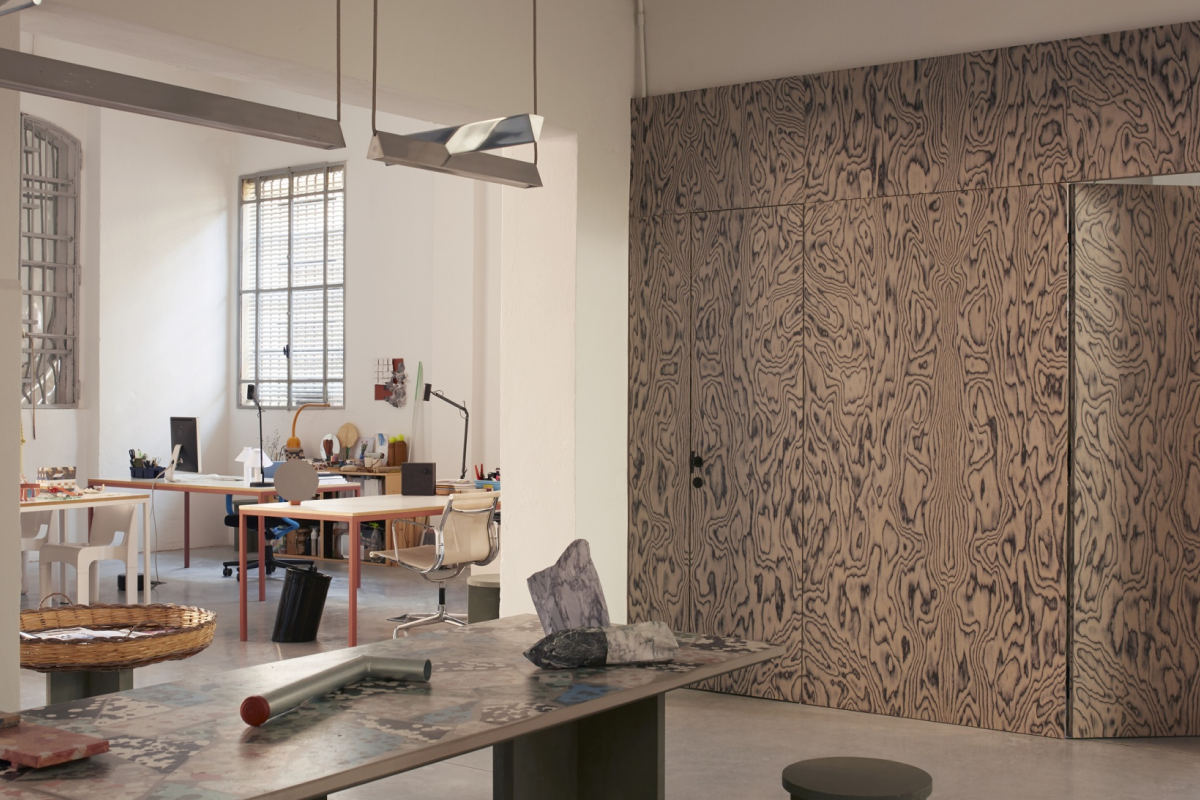 Trend Forecast: The Rise of Hypnotic Veneer in Interior Design
10 July 2023
As we approach the midpoint of 2023, our attention naturally turns to the upcoming trends dominating the interior design scene in 2024 and beyond. Among these trends, one material has captured our interest – a type of wood veneer that exudes novelty and promises exciting possibilities for contemporary design.
What exactly is this trending veneer? It's a distinctive wood grain known as Sottsass by ALPI. This bold and graphic pattern has appeared in new collections and projects, from residential to commercial spaces (including the flagship store of fashion brand Off-White in Paris). While originally designed by the iconic Ettore Sottsass, a pioneer of the Memphis design movement, it is now gaining recognition as an exciting new material.
This veneer's hypnotic patterning highlights the meandering grain of the wood with repeating sections. How is such an effect achieved? According to Vittorio Alpo, president of ALPI wood, it is crafted from Ayous wood sourced from responsibly managed forests that adhere to strict environmental, social, and economic standards. The process involves dismantling a tree, and reconstructing a new square trunk, resulting in a wholly transformed wood appearance. Although this technique has existed for over a century, ALPI has elevated it to an industrial process.
The final material resembles a print or wallpaper, but it is essentially the natural form of wood, given a creative twist. Dawid Konieczny, founder of Dawid Konieczny Interiors, describes the veneer as a work of art. He utilized it to design a custom bed and headboard for a monastic apartment in Warsaw, appreciating its aesthetic value.
View this post on Instagram
While solid wood is often regarded as the purest form of embracing the material's natural beauty, veneers should be noticed. Veneers are not only composed of natural wood but are also surprisingly sustainable. Through innovative manufacturing processes, veneers allow new forms and textures to be extracted from this time-honored material.
Modern veneers offer opportunities to enhance color and pattern within the medium of wood. Moreover, veneers present advantages beyond aesthetics. These thin layers of compressed wood, typically around 1.5mm thick, are lightweight and versatile. Thanks to their adaptability and ability to be pressed onto MDF boards, they can be easily applied to various forms, such as cabinet fronts, wall panels, and beds.
The versatility of veneers transcends specific interior styles. Veneers can thrive in minimalist environments, with monochromatic colors emphasizing their aesthetic qualities and drawing attention to the bed they adorn. Striking the right proportion and scale is crucial in design, ensuring comfort and a focused visual impact.
The Sottsass veneer, in particular, is poised to become the next prominent print trend, extending beyond wood treatments to wallpaper, textiles, and more. Designers are eager to replicate its statement patterning. However, ALPI offers an array of modern veneers that go well beyond this particular style.
It's worth noting that many veneers come from responsibly sourced wood and are sustainable in terms of material usage. They often utilize wooden waste derived from recycling, making veneers an eco-friendly addition to your home's design.
The rise of hypnotic veneers in interior design is an exciting development. These modern materials provide endless possibilities for color, pattern, and texture. Their lightweight nature offers versatility and adaptability, making them ideal for various applications. As designers explore the creative potential of veneers, we anticipate seeing these captivating materials continue to make waves in the world of interior design.
Newsletter Sign-up
Thank you for signing up!
"*" indicates required fields
---
---
Popular Posts
Categories
---
---
---
---
---