The Beauty of Japanese Joinery
19 July 2022
Japanese woodworking is a traditional practice carved out by master artisans over centuries. Japanese arts, from sushi-making to flower arranging, are full of practitioners dedicated to achieving perfection, generation after generation.
Japanese joinery vs. other types of joinery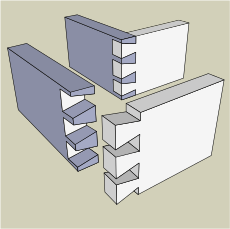 Joinery in architecture and furniture making is a standard practice around the world. However, metal fasteners and adhesives are not used in traditional Japanese joinery. Even though buildings without nails or other fasteners are not unique to Japan, the intricate types of joints, the durability of the structures created, and the absence of iron make Japanese joinery unique.
Joinery techniques are often used in European and American architecture as a means to an end. Before anything else, woodworking is a practical craft used to create desirable goods and buildings. Japanese joinery methods, however, are not only used for practical reasons but also to highlight the craftsmanship and enhance aesthetic quality. Furniture makers often use these decorative joints in temples, shrines, and castles.
In addition, American and European architecture often used nails when it was beneficial to do so. However, Japan had very low-quality iron, resulting in brittle nails that rusted rapidly. Consequently, Japanese builders devised ways to construct buildings without metal components.
The type of wood used for Japanese joinery varies.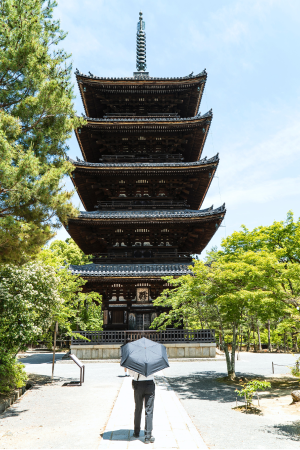 When making furniture or building structures with joinery techniques, not just any wood is used. Species of wood are carefully selected based on their qualities. They consider hardness, resistance to rot, moisture content, scent, color, and size.
Cabinets and boxes are made from lightweight Paulownia wood (Kiri). In fact, a Paulownia tree is planted for a daughter in some parts of Japan when she is born, as it is a fast-growing hardwood. Then, after she gets married, the tree is cut down and used to make her a bridal chest of drawers. This wood naturally protects delicate items from humidity, allowing them to be stored safely.
Structures designed to last centuries are often constructed with Japanese cypress (hinoki). This highly rot-resistant wood is used in castles, temples, shrines, and palaces. Most impressively, Horyu-Ji in Nara, the oldest wooden building in the world, built over 1300 years ago, was created with this wood.
Japanese Joinery and Furniture Making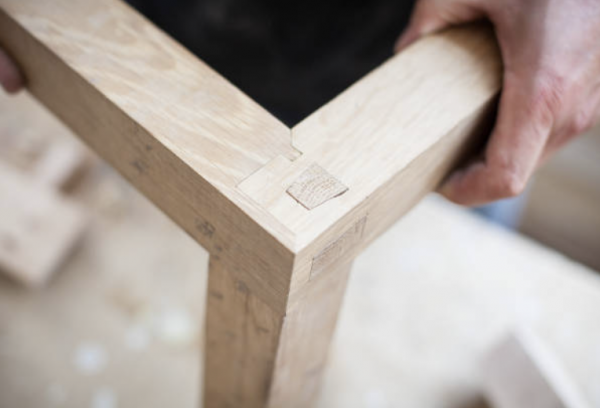 Due to the softer woods used in the joinery furniture-making process (Sashimono), the joining techniques can be even more complicated and precise. It is possible to build drawers and boxes so precisely that the lids and doors close gently due to being nearly airtight. The lid will slowly slide down as air leaks out instead of being slammed on top of the box.
Kumiko woodworking is another example of the impressive complexity in furniture making. The furniture is assembled in intricate and symmetrical patterns, and hundreds of pieces of wood are carefully arranged.
A product made with two types of wood can have beautifully contrasting colors that highlight both the wood quality and the craftsmanship. While some joinery products conceal the joints, these turn them into a feature that enhances the item's appearance.
As joinery does not cause holes in the material, it is relatively easy to disassemble. Additionally, furniture no longer useful to its owners can be taken apart and rebuilt into something more useful in the spirit of mottainai (regret over waste). For example, taking apart a chest of drawers to make several small boxes or a more modern item like a TV stand is possible without destroying the well-aged materials.
---
---