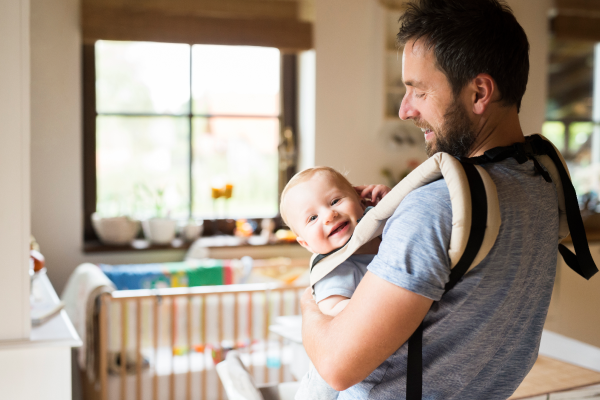 Baby Furniture (and Items) I Never Knew I Needed
5 October 2022
Few things in life completely turn your life upside-down like becoming a new parent. You're thrown into this role you may or may not have any experience with, and suddenly you're in charge of human life? It can feel like an out-of-body experience sometimes.
My personal parent journey felt like a unique one, to say the least. I became a mom to a beautiful baby boy smack dab in the middle of a global pandemic: May 2020. Fortunately, we were blessed to have a healthy boy with no complications, but the hurdles still felt high and challenging. My husband and I had very little experience with babies, and with the global pandemic raging, we could only rely on ourselves while the rest of the world was locked up tight.
While our parenthood journey is unique to us, it never hurts to hear another perspective when getting ready to prepare yourself for the incredible experience that is parenthood. So while these pieces of furniture and baby items were helpful to us, no journey is the same, and your mileage may vary. That being said, let's get into it!
A Bassinet
This one may be obvious for some, but it was not so obvious for us. We had the nursery all set up with a crib and changing table, but it never occurred to us we would want to keep him close to our bed while he was teeny tiny to make it feel like we were co-sleeping without any of the worries of the dangers of co-sleeping. No judgment for those who chose to co-sleep; we just decided that wasn't the route we would take as a couple. The great thing about this bassinet was being able to adjust the height easily and how lightweight it was so we could haul it around easily. Another protip, if you have a two-story house, having an additional bassinet or pack n' play both upstairs and downstairs was necessary with how often your little sleep throughout the day and night.
A Baby Swing
Again, this one may be obvious to some, but we didn't realize how invaluable this thing was till he was about 3 months old. My husband and I used the 5 S's for Soothing Babies like our life depended on it; for the most part, it worked. However, after months of bobbing and swaying till our son would sleep for his many naps a day, my husband's mother recommended we use the baby swing for the sway portion of the 5 S's, and holy cow was it a game changer. When your baby is new, it's a guarantee you'll be mentally and physically exhausted, so every shortcut is welcome with open arms. Just be sure to try and transfer your baby from the swing to a crib after he's fallen asleep to help avoid head flattening.
Sit-Me-Up Floor Seat
I couldn't recommend this little chair enough. Sticking him in this chair is the absolute best when your baby has good enough head control. It helps baby work on neck muscles while getting in some good face time and allowing him to explore the little grabby toys. Even better, we started using it as a makeshift highchair when first introducing solid foods. It can be picked up and carried about easily and easily cleaned, especially when we started using it as his first highchair.
Baby Jumper
Think of this as the leveled-up version of the floor seat. This serves the same purpose for your baby to work on building those muscles but with the added benefit of jumping and swerving around. What's nice is the height can be adjusted as your baby gets taller, and it's especially helpful when your little crawler needs to work off some energy by jumping around rather than getting into the cat's water bowl.
Foam Indoor Play Equipment
Okay, this one is a little weird and may seem overpriced, but bear with me. You'll notice your baby wanting to climb at one point. Trust me, you'll know it when you see it. What's nice about these little swishy pieces is they can be used for more than just climbing — at one point, we used it as a squishy step stool to climb onto the couch and act as a soft landing if he ever toddled off the couch. What's also great about these things is it's age-defying. Our son is now two, and we still use these climbing toys to build blanket forts. It may seem silly, but I've never regretted buying these things.
While I can go on and on about helpful gadgets and items for someone like me who felt completely underqualified to care for a baby, I'll stop at these 5. Not only did I buy these on the fly out of necessity, but I was pleasantly surprised by how helpful they were as my son grew and developed. And good luck on your parenthood journey!
Newsletter Sign-up
Thank you for signing up!
"*" indicates required fields
---
---
Popular Posts
Categories
---
---
---
---
---