The History of Tiffany Glass
26 September 2022
Louis Comfort Tiffany was an interior designer who, between the years 1878 – 1933, revolutionized glass making and furniture design. He visited Europe to study medieval glass-making techniques and was fascinated by them. He determined to create a new form of the old art. He set up a studio in New York and, along with Clara Driscoll, Agnes Northrop, and Frederick Wilson, developed an entirely new style and type of glass. He originally called the new glass "Fabrile," which means hand-wrought in old English. Later he decided to change the name to Favrile because it sounded better. Probably because it sounds more French.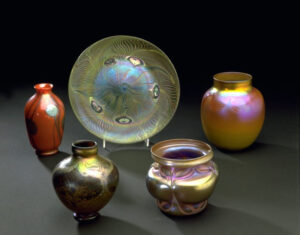 Tiffany's new glass was like the old medieval glass in that the colors were in the glass, not painted on or added later. The color was added while the glass was being fabricated. Favrile has an iridescent quality. It was created by adding various metallic oxides while the glass was hot and working. It was used to create stained glass windows, lamps, clocks, and other craftworks.
Tiffany also created works in the traditional styles using handmade glass in more traditional ways, creating lamp shades and ornamental objects using old techniques with modern twists. His lamp shades are particularly well remembered and are copied by modern manufacturers with cheaper plastic materials. Light from a lamp streaming through these colored shades adds beauty to any room. But the real thing has an unsurpassable quality.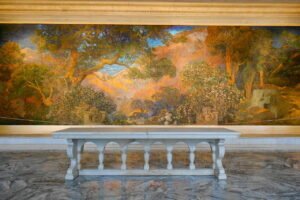 It all started with what is called Cylinder glass (Muff). This is where the glass is formed into a cylinder while hot, then cut and allowed to flatten out into a sheet. This is how the original glass in medieval cathedral windows was created. The glass was colored with various materials; usually metal oxides, to gain various colors. Natural glass has a greenish hue, and the other colors are derived from there. These solid colored glass pieces would then be cut to shape and arranged to form images.
Tiffany's technique was adding metallic oxides while the glass was working to create patterns rather than a single color. In this way, a single piece would have elaborate colors and iridescent quality. This is why cheap reproductions just don't measure up. The combination of colors in a single form makes favrile so beautiful. You can't get these colors from other materials.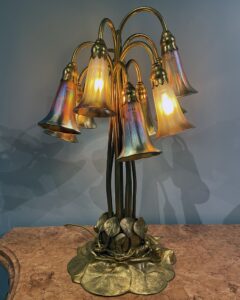 Aside from Favrile glass Tiffany also worked in Streamer glass which is textured glass made to resemble natural items like twigs or grass, Fracture glass which is shattered glass adhered while hot, which could represent foliage at a distance, Ring mottle glass which could represent organic forms, Ripple glass which emulated water, and Drapery glass which represented folded cloth or robes in three dimensions.
Tiffany's forms often represented nature with inorganic materials like glass and metal. Part of the appeal is something that looks natural, but you know is made of man-made materials.
Tiffany is probably best known as a jewelry designer, but it all started with his glass making.
---
---