Skara Brae Prehistoric Village Furniture: Stone Implements of Neolithic Life
22 May 2023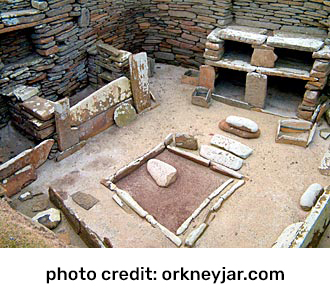 Skara Brae, an ancient settlement located on the Orkney Islands, offers a fascinating glimpse into the lives of Neolithic inhabitants. This prehistoric village, believed to date back over 5,000 years, is renowned for its well-preserved stone structures and intriguing furniture. Let's dive into the unique stone furniture of Skara Brae and the insights it provides into its inhabitants' daily lives and social dynamics.
Exploring the Stone Furniture of Skara Brae
Given the scarcity of wood in the Orkney region, the people of Skara Brae ingeniously turned to the readily available local stone as their primary building material. This choice of stone construction ensured the village's longevity and shaped the furniture used by its residents. Without wooden furniture, the Neolithic builders crafted various stone furnishings for their households, showcasing their resourcefulness and adaptability.
Stone cupboards, dressers, beds, shelves, and limpet tanks were integral components of the homes in Skara Brae. Among these fixtures, the stone dressers held particular importance. Positioned to face the entrance of each house, the dresser was the first item encountered upon entering. While it may have served a functional purpose as a storage unit, many believe it also held symbolic significance within the village's social fabric.
The precise meaning of the stone dressers in Skara Brae remains a subject of speculation. Some conjecture that the objects displayed on the dressers indicated the occupants' social status. The arrangement and selection of items on the dresser could have communicated the household's prestige or expertise in specific domains. However, further investigation is needed to support this theory conclusively.
Central Hearth and Divided Beds
At the heart of every house in Skara Brae stood the hearth, the central focal point of domestic life. Flanking the hearth were the stone beds, uniquely constructed as stone-built "boxes" jutting out into the middle of the room. An intriguing pattern emerged when examining the beds: the right-hand bed was consistently larger than the left. This asymmetry led researchers to propose a theory of gender-based divisions within the houses. The larger right-hand bed was associated with the male section, while the smaller left-hand bed was attributed to the female section of the household. This proposed division suggests a structured organization of living spaces based on gender roles and responsibilities.
The stone furniture of Skara Brae not only served utilitarian functions but also carried cultural and social implications. These furnishings highlight the ingenuity of Neolithic communities in adapting to their local environment. The absence of wood did not hinder their ability to create functional and meaningful living spaces.
As we explore the stone furniture of Skara Brae, we gain a deeper understanding of its inhabitants' daily lives and social dynamics. These ancient stone implements offer a window into a bygone era and provoke contemplation on our prehistoric ancestors' remarkable resilience and creativity.
---
---