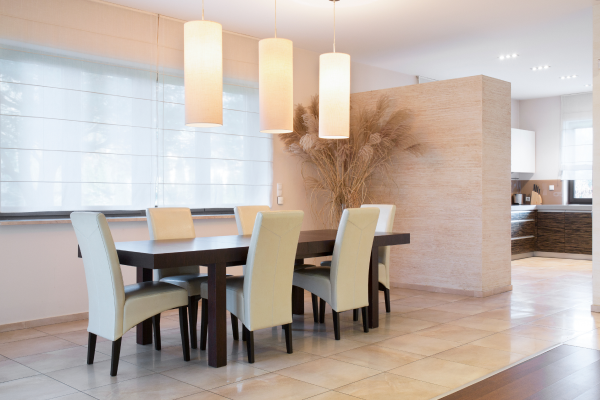 Living Room Furniture You Never Knew You Needed
1 March 2022
Living Room Furniture You Never Knew You Needed
The living room: a place for family, friends, and relaxation. It's a place to watch TV, read a book, or hang out. While most people focus on the essentials like sofas and TVs, there are a few pieces of furniture you may not have considered that can make your living room feel like home.
If you want to add more character and personality to your living room, you've clicked the right link. Check out these lesser-known but essential living room furniture pieces and see if they might be right for your space.

---
---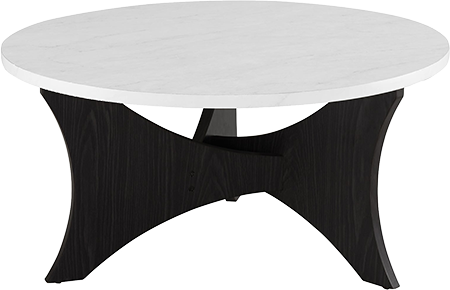 Looking for the perfect coffee table to complete your living room decor? Look no further than the faux white marble tabletop and intersecting legs of the Modern Intersecting Leg Round Coffee Table. Imagine your friends gathering around your swanky space, topping off their gold-rimmed stemware, and discussing the latest episode of your favorite reality TV show while you prepare a drool-worthy appetizer? Displaying the mid-century modern round coffee table will instantly give your living space a posh, well-furnished look. With its faux white marble tabletop and intersecting leg design, this table adds culture and sophistication to your favorite sitting area. Your new favorite coffee table keeps your space classy for all your future gatherings with its sturdy tabletop and warp-resistant legs.
This Modern Intersecting Leg Round coffee table's faux white marble tabletop and intersecting legs create a beautiful contrast that will make a statement in any room. Since this table features a unique round shape, it'll surely become the center of attention in your living room. If your upholstered sofas feel incomplete, pair them with an Intersecting Leg coffee table, and transform your living room in one go.
Salient features of the West Coffee Table:
Laminate tabletop for an elegant display
Constructed with warp-resistant MDF with a durable laminate coating
Intersecting legs offer a contemporary looking 3 leg table
Sturdy and stylish
Easily assemble with step-by-step instructions
---
---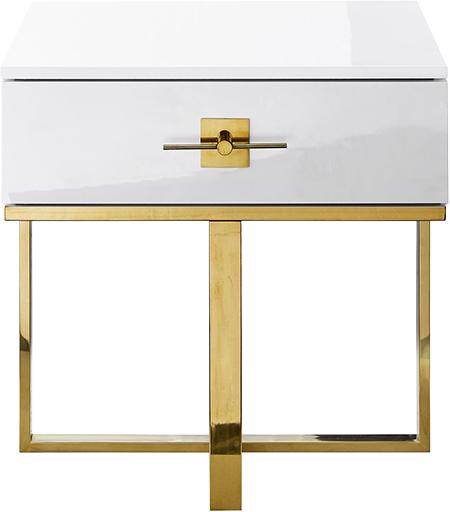 The sleek and stylish materials give this side table/end table a fresh contemporary look. The square table top has a high gloss lacquer finish, while the stainless steel base and drawer pull handle are polished. Providing the look you want, this clean and glamorous side table will immediately capture your attention if you love shiny modern styles. With one drawer for storage and beautiful shiny hardware, this exquisite piece will quickly become a favorite item in any room.
Features that make the Emile Side Table a not-to-miss grab:
Nicole Miller New York Furniture Collection
Clean and glamorous modern style
Easy-to-assemble
Gloss finish for easy cleanup
---
---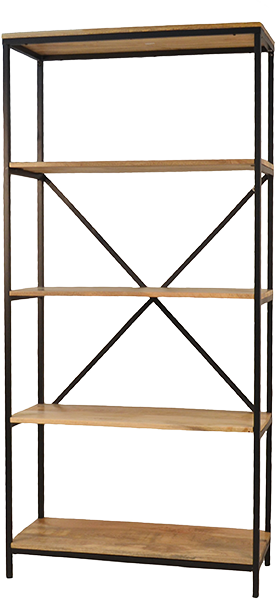 A bookcase is more than just a place to store your books. It's a way to express your personality and taste. Whether you're an avid reader or just like to collect books, a bookcase is a great way to show your interests. A tall bookcase can add some drama to a room, and it's a great way to show off your collection. If you have a lot of books, you can use the shelves to create a focal point in the room. And if you're looking for something more minimalist, you can find a bookcase with clean lines and simple details. Either way, a bookcase is a great way to improve your living room.
Form and function combine in the Brayden Tall Bookcase. Paired with rich chestnut finish shelves and textured black metal frames, create strong, roomy shelves. Your favorite books, knickknacks, and memorabilia will look great on its five large shelves.
Toulouse Tall Bookcase Features:
Rich chestnut finish shelves
Textured black metal frames
Five large shelves
Wood and metal material
Overall sleek look
---
---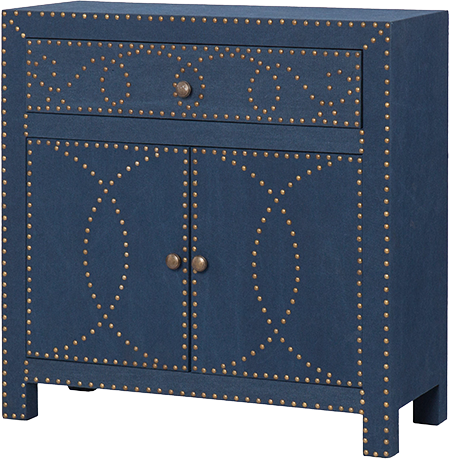 This intricately detailed yet fantastically functional double-door cabinet is perfect for showing off your seaside sweetheart. An ornate nailhead trim dances across the front while soft linen and brass studs create an eclectic coastal look. The open display surface and ample inner storage are perfect for displaying entertaining accessories, linens, or extra goodies. You can use this versatile storage cabinet in the family room, bathroom, entryway, or even hallway to keep your home organized.
Noteworthy Features of the Somerset Cabinet:
---
---

The Birch Glass Door TV Console is a work of art that is both functional and stylish. This rustic cabinet is hand-finished with square stepped molding, and the doors have an adjustable shelf. The back panels of the cabinet are also adjustable to accommodate media components. The console is a perfect addition to any home décor. It is both elegant and practical.
Birch symbolizes luxury, sophistication, and style. And this piece lives up to the highest quality standards you seek in living room furniture. The Birch glass console table is simply gorgeous. The sleek, minimalist design will add a touch of elegance to any living room. But the real beauty of this piece is its versatility.
This 70-inch TV stand features windowpane cabinet doors for a stylish farmhouse feel. High-grade MDF, durable laminate, tempered safety glass, and metal construction provide a solid and sturdy design for storing your media, electronics, and more. You can display your decor or book collection behind the glass pane doors and your electronics on the center open shelf. Featuring cord management and adjustable shelving for an easy fit for all of your items. This transitional and traditional entertainment center can hold up to an 85-inch TV in your living room or serve as a storage console for blankets, pillows, jackets, and shoes in your bedroom.
Delano Iron Door Console features:
Open center cubby provides display space
Cord management ports keep cables tidy
Accommodates TVs up to 80 inches
Made from warp-resistant MDF wood, durable laminate, tempered glass, and painted metal handles
---
---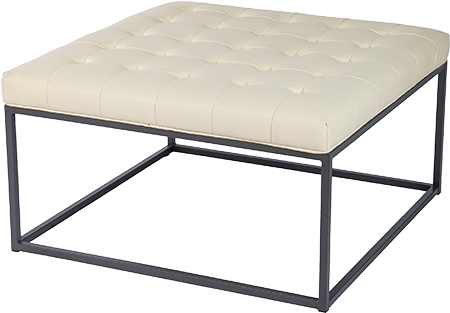 If your living room needs a pick-me-up, consider adding an ottoman. These comfy pieces can not only provide extra seating for guests, but they can also act as makeshift coffee tables or footrests. And when it comes to style, there's an ottoman for everyone. For a touch of glamour, go for one with a metallic finish or luxurious fabric. No matter your decorating scheme, an ottoman will elevate your space. So go ahead and give your living room the boost it needs—you (and your feet) won't regret it.
The Coleford Tufted Ottoman is a stylish and functional piece of furniture. This modern cocktail ottoman will add functionality to your living space. The contemporary design is completed by elegant tufted upholstery and a gray metal base. Serve an afternoon tea tray while watching the game while propping up your feet in style. Bring this upholstered cocktail table home to enhance your updated design.
Superb features of the Coleford Tufted Ottoman:
Modern upholstered ottoman or coffee table
Tufted buttons add design and dimension
Mixed-material construction and two-tone look
Elegant square shape
Cream and gray finish
---
---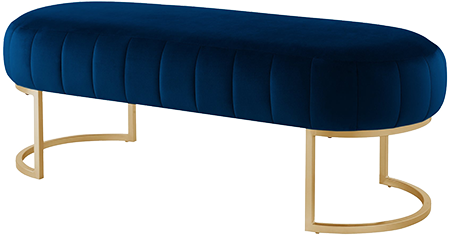 Our living spaces are where we create some of our most cherished memories. They're where we laugh and love, dance and dream. So why settle for a couch when you could have a Kase bench? This piece of furniture is as inviting as it is chic. It's the perfect spot for reading a book, enjoying a glass of wine, or simply curling up.
Any visitor will be captivated by this modern channel-tufted bench. Its oval-shaped seat top is elegantly complemented by its matte metal half-round legs, which increase its durability, stability, and strength, allowing it to last for years. Its armless, backless design creates a clean, modern feel and is the perfect functional addition to any room. In addition to being a coffee table, ottoman, or footstool, this bench has a stable and sturdy flat top.
Louis Oval Bench Features:
Channel-tufted
Four color options
Engineered Wood
Backless design that creates a clean, modern feel
Final Thoughts
Choosing eclectic furniture pieces that look chic and practical can be difficult. But the effort is well worth it when you see the results: a beautifully transformed living room that looks chic and is also practical. With a little planning and forethought, you can easily achieve this look in your home. And once you've seen the results for yourself, you'll never return to your old furniture again. We hope these elegant furniture items will help you beautify your home and make it a more welcoming place.
---
---
Newsletter Sign-up
Thank you for signing up!
"*" indicates required fields
---
---
Popular Posts
Categories
---
---
---
---
---