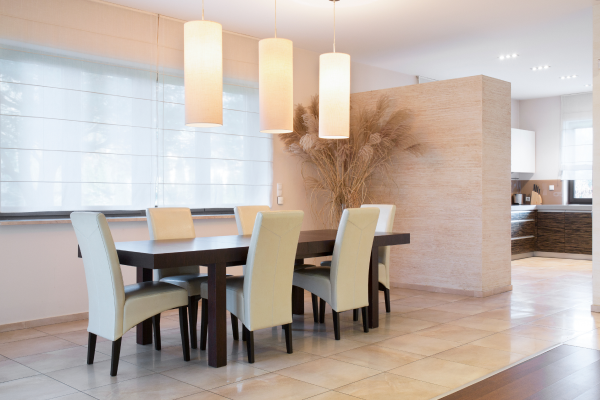 Living Room Furniture You Never Knew You Needed
1 March 2022
Living Room Furniture You Never Knew You Needed
The living room: a place for family, friends, and relaxation. It's a place to watch TV, read a book, or just hang out. While most people focus on the essentials like sofas and TVs, there are a few pieces of furniture you may not have considered that can make your living room feel like home.
If you want to add more character and personality to your living room, you've clicked the right link. Check out these lesser-known but essential living room furniture pieces and see if they might be right for your space.

---
---
1. West Coffee Table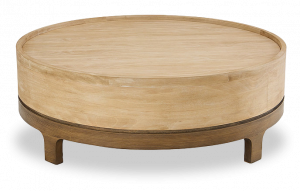 Looking for the perfect coffee table to complete your living room decor? Look no further than the two-tone whitewash and dark oak finish West coffee table. This handmade mango wood and oak table has a recessed top and comes fully assembled to beautify your living room. The recessed top is perfect for holding coasters, magazines, or decorations, while the bracket feet add a touch of elegance to the table. This elegant table's recessed top and bracket feet give the table a light, casual look perfect for any home decor theme.
The coffee table comes fully assembled, so all you have to do is sit back and enjoy the beauty of your new living room. This West coffee table's whitewash finish and dark oak stain create a beautiful contrast that is sure to make a statement in any room. Since this table features a unique round shape, it'll surely become the center of attention in your living room. If your upholstered sofas feel incomplete, pair them with a West coffee table, and transform your living room in one go. Whether you're looking for a new coffee table or end table, this two-tone whitewash and dark oak finish West coffee table is the perfect addition to your home.
Salient features of the West Coffee Table:
Two-tone whitewashed and dark oak finish
Handcrafted from mango wood and oak
Recessed top and bracket feet
Sturdy and stylish
Fully assembled
---
---
2. Emile Side Table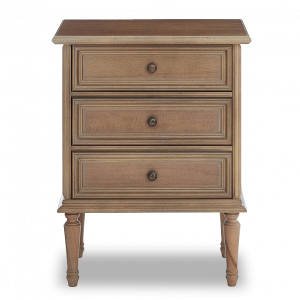 The Emile 3-drawer side table is another furniture item you didn't know you needed in your living room. This chic table has molded drawers and turned legs to portray a classic vibe. Besides offering a storage solution, this side table will look superb in your living room. The clean lines and simple design make it the perfect addition to any space. The soft-close drawers provide ample storage for all of your belongings. The turned legs add a touch of elegance to the table, and the overall design is sure to impress. Whether you're looking for a new storage solution or want to update your decor, the Emile 3-drawer side table is a perfect choice.
The Emile 3-drawer side table is a multi-layered table with a hand-applied finish to relay rustic charm and compliment your living room decor. This table is crafted in Italy from hardwood and fine veneers, and it comes finished on all sides to uplift your home's interiors. This elegant table comprises three drawers that provide ample storage space for small items like coasters, TV remotes, or magazines. You can display books, vases, or other decor items atop this side table to increase its usability. Since the Emile side table is available in different colors, you can easily match it with items like blankets, throws, or sofas for a nice overall look. With its hand-applied finish and versatile design, the Emile 3-drawer side table is a must-have furniture item.
Features that make the Emile Side Table a not-to-miss grab:
Multi-layered storage drawers
Hand-applied finish for a seamless look
Crafted in Italy according to the highest manufacturing standards
Hardwood & fine veneers
Easy-to-assemble
Antique brass knobs for a rustic outlook
---
---
3. Toulouse Tall Bookcase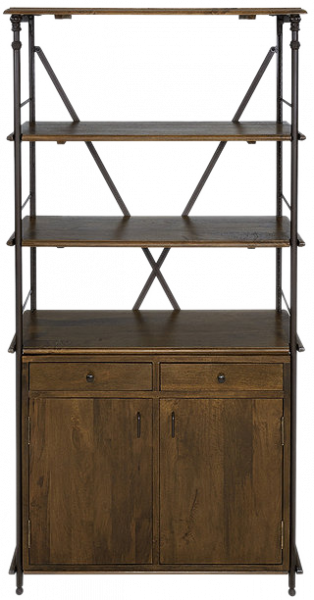 A bookcase is more than just a place to store your books. It's a way to express your personality and taste. Whether you're an avid reader or just like to collect books, a bookcase is a great way to show your interests. A tall bookcase can add some drama to a room, and it's a great way to show off your collection. If you have a lot of books, you can use the shelves to create a focal point in the room. And if you're looking for something more minimalist, you can find a bookcase with clean lines and simple details. Either way, a bookcase is a great way to stylishly improve your living room.
Once you decide to get a book display cabinet for your living room, take a look at Toulouse tall bookcase. This French-industrial-inspired bookcase is sure to make a statement in your living room. Crafted from solid mango wood and featuring riveted metal corner brackets, this bookcase is both stylish and durable. The three adjustable shelves and one fixed shelf provide plenty of space for displaying your favorite books, while the antique walnut stain finish adds a touch of elegance. With its clever design and quality construction, the Toulouse tall bookcase will become a favorite piece in your home.
Toulouse Tall Bookcase Features:
Antique walnut stain finish
Made from solid mango wood
Two adjustable interior shelves and storage drawers
Riveted metal corner brackets
Overall sleek look
---
---
4. Tuscan Cabinet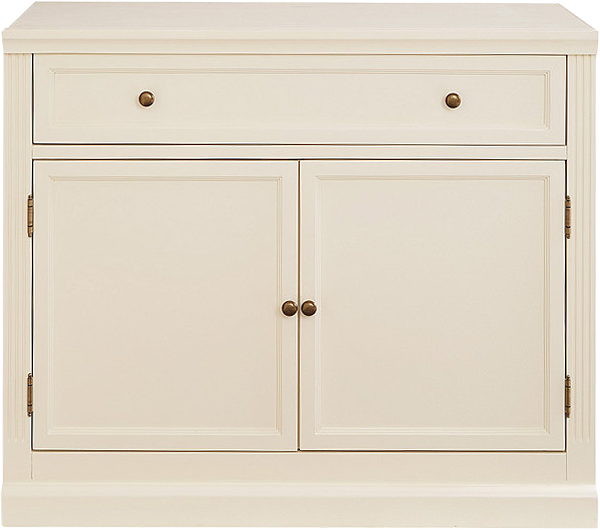 A small, simple cabinet can be transformative in a living room. It can provide extra storage without taking up much space. Plus, it can act as a focal point, adding interest and style. A cabinet can help you display items such as books, knick-knacks, or pictures. Or, it can be used to tuck away items such as remote controls or coasters. Either way, a cabinet is a versatile piece of furniture that can help to make a living room more livable and stylish. So, if you're looking for a quick and easy way to transform your living room's look, consider adding a small cabinet to it.
There's something so warm and inviting about a Tuscan-style home. The sun-kissed hillsides, the rolling vineyards, the rustic farmhouses…it's no wonder that Tuscan décor has become so popular in recent years. And now, with the modular Tuscan cabinet, you can bring that same old-world charm to your very own home. Whether you use it as an office, a library, or even just a place to display your favorite knick-knacks, this Tuscan cabinet will add a touch of class to any room. Plus, it's designed to work with our Tuscan Hutch with shelves, so you can create a custom look that's all your own. The plinth base and fluted corner rails add a touch of refinement, while the antique brass finish hardware and full extension metal drawer glides provide durability and function. And for the finishing touch, this cabinet's levelers ensure perfect alignment. So why not choose the Tuscan Modular Home Office Furniture for your next living room update? You won't be disappointed.
Noteworthy Features of the Tuscan Cabinet:
Solid wood frame and fine veneers
Antique brass finish hardware
Full extension metal drawer glides
Plinth base & fluted corner rails
Easy to assemble
---
---
5. Delano Glass Door Console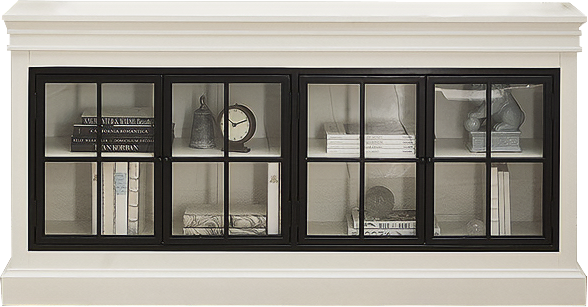 The Delano Console table is a work of art that is both functional and stylish. The console features a pair of double doors that are inspired by classic French windows. Its doors are made of iron and have a matte black finish. This rustic cabinet is hand-finished with square stepped molding, and the doors have an adjustable shelf. The back panels of the cabinet are also adjustable to accommodate media components. The console is a perfect addition to any home décor. It is both elegant and practical.
Delano symbolizes luxury, sophistication, and style. And this piece lives up to the highest quality standards you seek in living room furniture. The Delano glass console table is simply gorgeous. The sleek, minimalist design will add a touch of elegance to any living room, while the tempered glass doors and polished chrome frame make it perfect for both formal and casual settings. But the real beauty of this piece is its versatility.
Whether you use it as a buffet table in the dining room or a TV stand in the living room, the Delano glass console table will effortlessly beautify your home. The Delano glass door console table features chic French casement doors in a beautiful white finish. Made from hardwood and fine veneers, it's perfect for adding a touch of elegance to any room. The powder-coated iron doors are durable and come with cord management to keep cords tidy and out of sight. So don't wait any longer. Add a touch of luxury to your home with the Delano glass console table today.
Delano Iron Door Console features:
Sleek white finish
Powder-coated iron doors
Comes with levelers for perfect door alignment
Sophisticated French Casement doors
---
---
6. Tristen Ottoman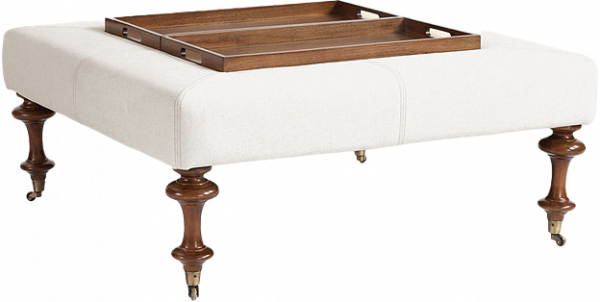 If your living room needs a pick-me-up, consider adding an ottoman to the mix. These comfy pieces can not only provide extra seating for guests, but they can also act as makeshift coffee tables or footrests. And when it comes to style, there's an ottoman for everyone. For a touch of glamour, go for one with a metallic finish or luxurious fabric. If you're looking for something more eclectic, opt for an unconventional shape or bold pattern. No matter your decorating scheme, an ottoman will elevate your space. So go ahead and give your living room the boost it needs—you (and your feet) won't regret it.
The Tristen square ottoman is a stylish and functional piece of furniture. The two birch wood trays lift out for easy serving, and the tray niche is finished with spit-tack trim, so it looks great even when the trays are out. This ottoman's nicely padded top rests on boldly turned legs, and you can customize it with over 350 fabrics. You can use it as a coffee table or an extra seat when you have company over. The warm, rich color of the fabric will complement your existing décor, and the tufted top will add a touch of luxury. The ottoman is also very versatile – you can move it around easily to create different living room configurations. Whether you're entertaining guests or simply relaxing at home, the Tristen square ottoman will make a beautiful and functional addition to your space.
Superb features of the Tristen Ottoman:
Seamless stitching
Built-in trays
Rustic walnut finish
Elegant square shape
Durable build for regular usage
---
---
7. Louis Oval Bench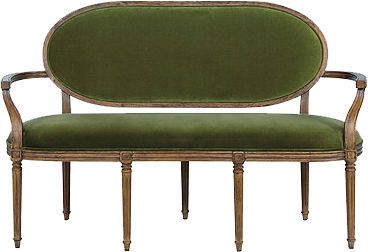 Our living spaces are where we create some of our most cherished memories. They're where we laugh and love, dance and dream. So why settle for a couch when you could have a Louis oval bench? Upholstered in soft velvet with plump pillows for comfort, this piece of furniture is as inviting as it is chic. It's the perfect spot for reading a book, enjoying a glass of wine, or simply curling up.
And when guests come over, it can easily be transformed into an impromptu seat or footrest. In other words, it's the piece of furniture you didn't know your living room needed… but won't be able to live without. The Louis Oval Bench is a magnificent piece of furniture that would look perfect in any home. It has a walnut finish and is made with refined lines, giving it an elegant appearance. The bench is thoroughly covered in luxurious velvet, making it extremely comfortable to sit on. It can easily uplift your living room's elegance and become your favorite furniture piece. With all these impressive features, it's safe to say that you can enjoy this bench's beauty for many years to come.
Louis Oval Bench Features:
Rustic walnut finish
Handmade
Imported
Unholstered
Glossy look
Final Thoughts
Choosing eclectic furniture pieces that look chic and practical can be a difficult task. But the effort is well worth it when you see the results: a beautifully transformed living room that looks chic and is also practical. With a little bit of planning and forethought, you can easily achieve this look in your own home. And once you've seen the results for yourself, you'll never go back to your old furniture again. We hope these elegant furniture items will help you beautify your home and make it a more welcoming place.
---
---
Newsletter Sign-up
Thank you for signing up!
---
---
Popular Posts
Categories
---
---
---
---
---