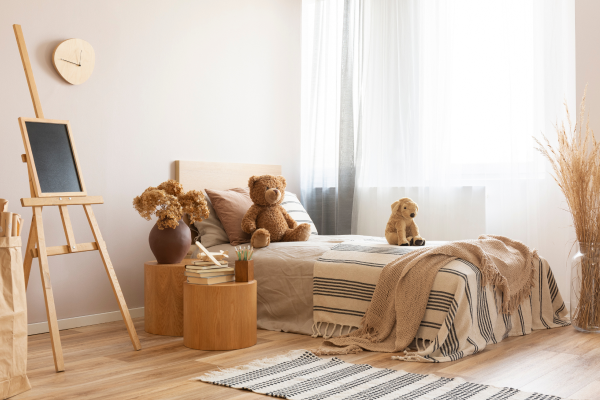 Best Bedroom Pieces For All Ages
1 March 2022
Everyone needs a comfortable place to sleep at the end of a tiring day, and your bedroom should be just that. You don't need expensive furniture or lavish add-ons to achieve that revamping your bedroom into a functional yet appealing space shouldn't dent your budget. There are certain furniture pieces that will make your bedroom more comfortable and inviting, regardless of its overall theme. Of course, the bed is essential, but what else should you consider? What will make your bedroom look more organized, cozy, and appealing? If you're pondering this aspect of home decor, you're in the right place.
Here is a guide to the best bedroom furniture pieces for all ages. If you're furnishing a new room or refreshing your home décor, these essentials will help you create a functional and stylish space. So, get ready to take your pick from our top picks!

---
---

Your bed is where you go to rest your head at the end of a long day. It's where you curl up with a good book on a lazy Sunday afternoon. In short, your bed is a refuge from the outside world, and that's why it's so important to make sure it's comfortable. The key is to create a space that feels cozy and inviting so that when you climb into bed at night, all your worries will fade away. After all, there's nothing better than slipping into a cozy bed and letting yourself relax.
And what's better than a Modern Mid Century platform bed to elevate your room's aura? This walnut solid wood bed platform will ensure your room has that boho charm and looks spacious alongside. A Mid Century Modern platform bed made from solid walnut is exactly what you need in your room – it's the perfect combination of function and form. The sleek, simple frame design paired with the warm, natural wood makes for a timeless look that will never go out of style. And because it's a platform bed, you'll never have to worry about your mattress sagging or slipping, thanks to the sturdy slats. Whether furnishing your first apartment or looking for an upgrade, this bed is a perfect choice. So go ahead and add it to your cart – you won't regret it.
Salient Features of this Mid-Century Modern Walnut Bed:
Sturdy slats
Minimalist build
King size
Boho style
Doesn't require a box spring underneath it
---
---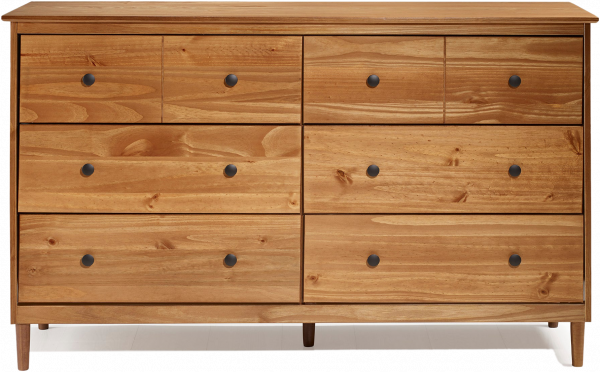 If your bedroom is like most, it's probably crammed full of clothes, shoes, and other belongings. A dresser is a perfect solution to this problem, providing a spacious place to store all your belongings. Dressers come in various styles and sizes, so you're sure to find one that fits your needs. Plus, it can be used as a decorative piece, adding style to your bedroom. A dresser is an essential piece of bedroom furniture you cannot afford to miss out on. And once you decide to bring home a dresser, this Modern Antique dresser should be your go-to.
Its tapered legs and solid wood build are both stylish and sturdy, and its six drawers provide ample storage space. If you're looking for a statement piece for your living room or a functional piece for your bedroom, this dresser will serve your needs. Since this solid wood dresser has a rustic charm, it looks best in boho-style bedrooms. Its polished bronze knobs and spacious drawers make a perfect pair, ensuring your room becomes more functional and appealing simultaneously. And this Modern Antique dresser is impossible to pass up at such a great price. Don't miss your chance to own this Modern Antique dresser and beautify your space in one go.
Features that Make this Dresser Stand Out:
Modern-antique look
Tapered look
Solid wood build
Polished bronze knobs
Spacious drawers
Sturdy build
---
---
A nightstand is more than just a piece of furniture. It's a home for your lamp, clock, and bedside reading. It's a place to set down your glass of water before you drift off to sleep. In short, it's an essential part of any bedroom. And yet, many people don't give their nightstands the attention they deserve. Perhaps it's because they're unsure how to style them, or they just don't think they need one. But trust us, a nightstand can make all the difference in your bedroom. With its handy surface and convenient storage, a nightstand will help you keep your room feeling organized and stylish. So if you want to take your bedroom to the next level, check out this elegant Mid-Century Modern nightstand.
This hardwood nightstand is the perfect addition to any Mid Century Modern bedroom. The clean lines and simple design are practical and aesthetically appealing, and the nightstand will become your favorite piece of furniture. The hardwood construction is incredibly sturdy, and the drawer provides ample storage space for all your nighttime essentials. The sleek design is perfect for any small space, and the nightstand will become a focal point in any room. Whether you're looking for a place to store your alarm clock or simply need a place to keep your glasses within reach, this hardwood nightstand is the perfect solution.
Salient Features of the Chic Nightstand:
Telescoping metal glides
Painted in a solid color
2 broad drawers
Tapered legs
Sleek overall look
---
---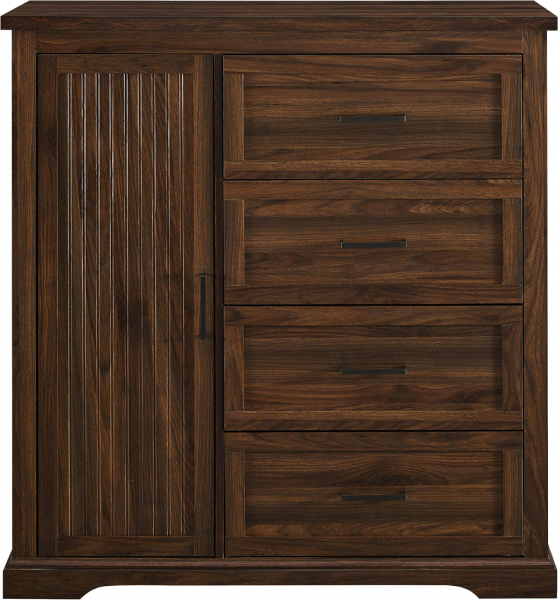 A place for everything, and everything in its place. That's the dream, right? But in the real world, our bedrooms are often like a dumping ground for clothes, shoes, and all the other odds and ends for which we can't find a home. If you're tired of living in a cluttered mess, it might be time to invest in this sturdy wardrobe. Not only will it give you a place to store your belongings, but it can also help to create a tidy and stylish bedroom. Plus, when your clothing is organized and out of sight, you'll be able to relax and enjoy your space much more. So, a transitional wardrobe is a perfect solution if you're ready to say goodbye to clutter.
This sleek transitional wardrobe has a stained walnut finish that will blend in with most home decor themes. The four drawers provide ample storage space for your clothes, while the adjustable shelves offer additional space for storing shoes or other items. The clean lines and simple design give this piece a timeless look that will never go out of style. This wardrobe will surely come in handy when you're furnishing a new home or simply updating your existing decor.
Features of this Practical Wardrobe:
1-door 4-drawers storage space
Adjustable shelves
Grooved and framed detailing
Smooth metal glides
---
---

A full-length mirror is a must-have in any bedroom. But why settle for a boring old mirror when you can have so much more? The Pizzazz full-length mirror jewelry armoire is the perfect way to add style and function to your space. This elegant piece features a full-length mirror, perfect for getting ready in the morning, and plenty of storage for all your jewelry. The sleek lines and classic design will complement any décor, while the multiple compartments and hooks provide ample storage for all your favorite jewelry pieces.
This Pizzazz full-length mirror jewelry armoire has velvet-cushioned hooks and bars to hold your jewelry collection – it's bound to bring a touch of uniqueness to your room with its contemporary design. The full-length mirror gives you a head-to-toe view of your outfit. The armoire is also perfect for storing your purses and other accessories. There's even a built-in pouch for your important documents. The lockable door ensures that your belongings are safe and secure. This armoire is the perfect addition to any fashionista's bedroom. Whether you're getting ready for a night out or need a place to keep your jewelry organized, this armoire is the perfect solution. So go ahead and treat yourself to a bit of Pizzazz. Your bedroom will thank you.
Features of the Pizzazz Full-Length Mirror:
Crystal borders
A full-length mirror and makeup vanity combined
Velvet interiors
Jewelry hooks and bars
A smart document pouch
---
---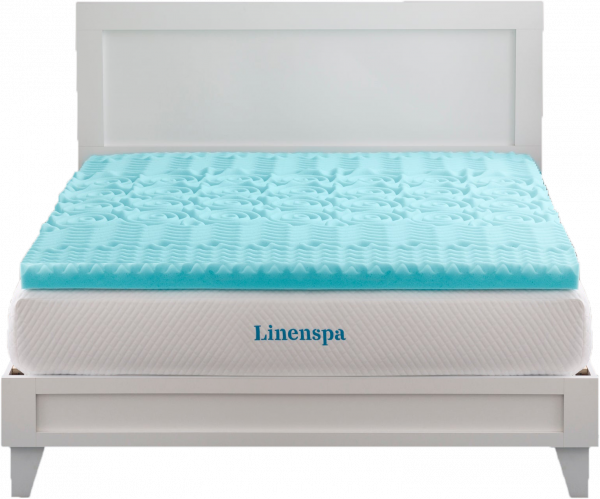 No one likes waking up with a sore back. If you're looking for a way to get a better night's sleep, a memory foam mattress topper may be the answer. Memory foam conforms to your body, providing the most necessary support. It also helps to reduce tossing and turning by evenly distributing your weight. As a result, you'll sleep more soundly and wake up feeling rested and refreshed. In addition, memory foam is an excellent choice for people with allergies since it's resistant to dust mites and other common allergens. If you're looking for a way to improve your sleep quality, a memory foam mattress topper is worth considering.
The Linenspa memory foam mattress topper is one of the latest and greatest products on the market. It features ActiveRelief technology, providing active pain relief by activating pressure points. It also has AlwaysCool infusions to regulate your body temperature while you sleep. You'll never have to worry about waking up in a sweat. The Linenspa memory foam mattress topper is also extremely comfortable due to its memory foam construction. This material molds according to your body, providing support and cushioning where you need it the most. If you suffer from back pain or want a better night's sleep, the Linenspa memory foam mattress topper is the perfect solution.
Smart Features of the Mattress Topper:
Gel memory foam
5 zone memory points
AlwaysCool infusions to maintain a steady temperature
Three-inch thick
ActiveRelief technology for effective pain relief
---
---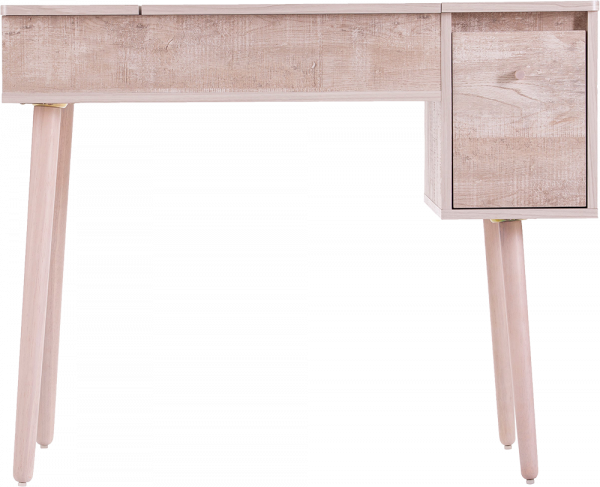 A sleek mirror vanity can uplift your bedroom's look. It's a great way to add a touch of elegance and style. Plus, it can also be a great storage solution. You can use the vanity to store all your makeup, perfume, and other beauty products. And if you get one with a built-in light, it can help you do your makeup in the morning or evening. So, a sleek mirror vanity won't go wrong if you want to spruce up your bedroom's look.
This Kent Mirror Vanity is the perfect addition to any room. Its solid wood frame and tapered legs are sturdy and stylish, and its raw finish will add a touch of elegance to your room. The mirror is large enough to provide a full view of your reflection, and the vanity has plenty of space to hold your essentials. You can pair this vanity with a small wall-mounted mirror or stick to its built-in mirror. Whichever mirror you choose, ensure it complements this sleek vanity and completes your bedroom. Whether you use it in your bedroom, bathroom, or living room, this Kent Mirror Vanity will make a statement.
Salient Features of the Kent Mirror Vanity:
Solid wood construction
Tall, tapered legs
Raw finish
Spacious storage drawers
Built-in mirror
Wrap Up
Your bedroom should be a haven where you can relax and recharge after a long day. Unfortunately, too often, it becomes a dumping ground for clothes, shoes, and other odds and ends. Therefore, when it comes to your bedroom, be choosy about your furniture. Yes, it's great to find a style you love and stick with it, but don't be afraid to mix things up. After all, your bedroom should be a reflection of your personality. So, if you're feeling daring, go ahead and experiment with different colors and materials. Just make sure that everything comes together in a cohesive way. And most importantly, select pieces that will make you feel relaxed and comfortable. After all, your bedroom is your personal haven.
Take your time to carefully select each and every piece. It'll be worth it in the end.

---
---
Newsletter Sign-up
Thank you for signing up!
"*" indicates required fields
---
---
Popular Posts
Categories
---
---
---
---
---